---
Rehoming- Our services explained
Rehoming a dog is always a difficult choice for those who's dog is part of their family. Finding the right people to take over your guardianship can be difficult. You may put his image on TradeMe, and you might have the best luck and find the best home.
People rehome a dog because:
1) incompatible with the family's lifestyle
2) the family moving overseas
3) change of circumstance for the owner 4) behavioural problems - any kind of problem, except being aggressive.

We are here to help. We will not only find a suitable home, but we will, if need be, train your dog so that he does get a good home.
Rehoming fee: from $250.00 depending on each circumstances.
We will come to your home and provide an assessment of your dog. After seeing your dog, seeing him/her interact with the family, getting medical information as well as behavioural information, we will either accept to rehome, and decline the rehoming.We need your dog to fit into our lives while we look for a home.
We charge a fee to the new family that will take your dog. This pays for our training, our space in our home, and our time & effort looking for the right family.
---
As of November 2 2018
Zac needs a home
I don't look too much like a Bichon or a Poodle, but I am. Cute eh! And I am a healthy vaccinated Male 5-year-old with a great social temperament. I bark at things I haven't seen before but I am a pretty cool house dog. My caregivers just got too busy for 'my best care' and are reluctantly and sadly helping me find a great new home. And I really love them for doing it. I promise to be as good for you as I was for them.... You can meet me, but I live bit out of town, so have a chat with Blair (or Natalie) and find out when you would like come and pick me up! I'm keen if you are! I just love kids....(btw).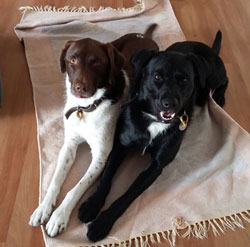 Bright & Summer need a home or 2 homes
Bright and Summer live together, and would like to go to a home that would like them both
However, the owners understand that they might be separated. Beautiful dogs.
The owners are moving overseas so they need a home either now, or after Christmas.
---
Pictures of the dogs (BELOW) that we rehomed successfully.