Rehomed- Harry the Border Collie
Harry is Pure Breed Broder Collie that is very loving, devoted, and enjoys life.
He's male, neutered and he's 2 year and 5 months old
Harry was born in Leeston -- just up the road ! This family have had Harry since he's been a puppy. He's grown up with 2 cats but the cats rule the roost.
Harry has been brought up with two children and has been around many dogs.
REASON for looking for a new home: The family is moving soon. They have two children and feel that Harry is always on watch as their special needs child can sometimes talk too loudly or with a high pitched voice which they feel hinders Harry.
Harry is just a great dog looking for a home that is a lilttle quieter, has time to walk Harry and give him some time to play ball with. You couldn't ask for a better dog!
HARRY HAS BEEN REHOMED
Good bits about Harry


* He is sweet and loving nature dog.
* He loves his ducky and running off the lead to chase the bunnies and the balls...
* Harry enjoys being in the same room as his humans but can stay inside the house while you are at work.
* Harry enjoys walks and wants to be in front of you.
* He does NOT bark! Or very very rarely. You'll have happy neighbours!
* He likes people saying hello but needs to be right there with you. He doesn't jump on people and if he does, a quick OFF command is all he needs
* His commands are 'go to your mat', sit', 'stay', and his recall is superb. He is very quick to learn.
* He sleeps in his crate which makes him a great dog to bring to your friends.
______________
He finds difficult:
* Harry can't travel for long periods due to car sickness and being in the small space. (this may change with a change in family and circumstance... )
* When there is too much noise in the house (he is presently living in a house with a special needs child)
* Harry has to be in front of us when walking and doesn't like us separated (a real herding dog)
* He doesn't like bikes, scooters, balloons , rugby games or parties (this can gradually be introduced to Harry with a new family)
* The cats target his bed and he feels overwhelmed (poor Harry...)
Our service price includes :
$400 includes:
* 4 weeks of dog training at our class OR 45 minute for a private consultation ($100 to $125 normally)
* Treat Bag: (worth $40)
* Any training issues, you can ring us any time.
* Discounts on homestays ($30/day instead of $35/day)
* Harry, the dog !!! of course.
* Book: Love Has No Age Limit - Welcoming an Adopted Dog in your Home --- by Patricia McConnell (normally $25)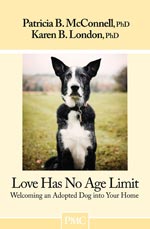 Voted "Best Soft-Cover Guide of 2011" by the Dog Writer's Association of America, this book tells you everything you need to know about welcoming an adolescent or adult dog into your family. We all know that older dogs present their own special joys and challenges; let this easy-to-read book turn your "new dog" into your "best dog ever!" By reading Love Has No Age Limit you will:

Learn to establish new relationships with time and patience
Learn what to expect at 3 days, 3 weeks and 3 months
Know how to avoid overwhelming a new dog
Use positive training to get started on the right paw
Understand minor behavioral problems vs. serious problems


INTERESTED? The form that you'll need to fill in is here. Give us a ring on 0221885817 (Natalie), or 021823647 (Blair)


VIDEOS OF HARRY -- COMING SOON ....