Rehomed- Ollie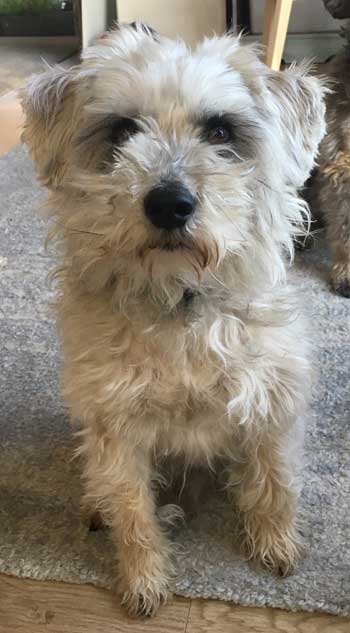 Ollie
7 year old, a mini Schnauzer poodle cross
Ollie lives with his brother Moe
The boys are being rehomed due to a change in circumstances in the owner's life.
Ollie is an active boy, very loving and attentive although somewhat nervous.
His ideal day would be to spend it completely in company of a human, to follow with lots of cuddles and patting time. He is not much of a licker but does lick sometimes. He is a bit of a jumper, he wants that attention. He will steal any food he can, especially if home alone. He loves to run and can walk nicely on a lead particularly. He likes still water and will have a wee paddle in a shallow lake but hates moving water, he does not swim just a paddle. He is a lovely wee fellow very kind and gentle.
Cost: $425 includes
the book Love Has No Age Limit- Welcoming an Adopted Dog into Your Home by Patricia McConnell,PHD (worth $25)
4 weeks Life Skills Class (worth $105)
microchipped (up to $80 depending on where you go)
registered -- owner needs to change the ownership and that price is incur by them
cheaper homestays (can save hundreds if you use us!)
ongoing help with training via email/phone after taking our class (priceless!)


If you are interested in Ollie, please fill in the application form


* please note: we will contact you once the dogs are ready to be rehome. They may stay with us for a few day or a week before they find their forever home.
There is a 7 day trial. If for whatever reason, Ollie doesn't fit into your lifestyle, he comes back to us and your money refunded less $40-- you keep the book for your next dog, and we get Ollie back.



If you don't wish to take the class, the cost is the same.

If you are interested in Ollie, please fill in the application form