Rehomed- Kora-
One Loyal Mate, Indoor Outdoor Friend indeed dressed in Black.
Kora is a Black Labrador, Spayed, Microchipped, Registered, and very healthy and loving.
Date of Birth: 20/8/2011
Forever Home - One Loyal Mate, Indoor Outdoor Friend indeed dressed in Black.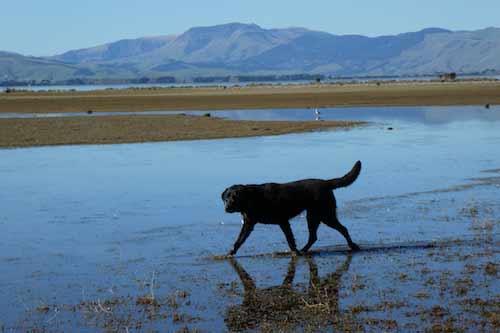 A healthy and endearingly playful, contented Black Labrador is with us, now ready for re-home. 'Kora", a six-year-old female (spayed) classic labrador, comes at the smaller end of the size scale, Kora is from a local family who just had to make the regretful decision to rehome their longtime friend. She has had great care, is in fabulous condition and comes fully vaccinated and with some good house manners training. (though being a Lab means don't drop anything that smells like it might be yummy.... )

Both indoor and outdoor behaviors, with recalls and 'other dog' social skills, she has been a companion with children (3yrs and 6months), house cat, and home alone time. Travels very well... and content to be alone for a bit. She is respectful of shoes and furniture and doors and stuff.

She will talk to you if she wants engagement or sees you putting on your jacket/gumboots and knows how to walk (but like all strong dogs, needs someone who knows how to redirect any silliness into a 'sit'. )

Very much a people Dog, she settles inside, sleeps quietly overnight but loves the outdoors time and will retrieve and play with rope toys (cheap). Squeakers get dissected...

Kora would really suit a family with a yard, a kennel and an active lifestyle who have probably never had a Dog before - but for whom there is lots to learn. She is a Lab, she is smart and can be silly, she is self-cleaning but will get dirty, being wet comes naturally, and is best fed in a slow feed bowl..... (yep, she comes with one). She is black, at night shadows are her friend, and if you want to take her photo anytime, use your flash, else, she is just another black hole.
If one was to describe her behaviour in one word - "Labrador" fits perfectly.
Cost: $350 includes slow feed bowl, dog bed, vaccination up to date, microchip.
You will need to pay to transfer Kora to you with the City Council.
If you are interested in Kora, please give us a ring, or email us. 021 82 36 47 or info@nakeddog.co.nz